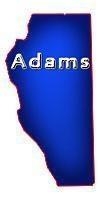 Adams County is located in Central Wisconsin between Wisconsin Rapids and The Dells one of the hottest tourist spots in the entire midwest. Adams is more of a countryside farming & recreational area with a couple larger communities including; Adams, Grandmarsh, Arkdale, Dellwood, Friendship, Rome and Oxford. Enjoy some of the outdoor life on public land including; Colburn Wildlife Area, Upper Neenah Creek Fishery, Leola Marsh Wildlife Area and Big Roche-A-Cri Fishery Area to name a few... Adams County, WI is located in the Center of the State north of Madison the Capital about 60 miles and is surrounded by 7 other Counties; Wood, Portage, Waushara, Marquette, Columbia, Sauk and Juneau. On this page you will find Hancrafted, Manufactured, Half, Full, Sawn, Squared, Swedish Cope, D-Log, Log Homes, Log Cabins, Rustic Log Cabins, in the woods, on water and more located in this county listed by real estate agents. Adams County, Wisconsin GIS MAP Information!

Log Cabins for Sale in Adams County Wisconsin
Real Estate | Home | Land | Condo | Commercial | Water | Log Home | Mobile | Farming | Land Contract | Foreclosure | Camping | ATVing | Snowmobiling
The section below is populated by IDXWI.com, a Landman Realty LLC website that scrapes WIREX which consists of about 9 Wisconsin MLS systems. You can register with the IDXWI.com: under "Advance Search", recreate these types of Log Home Searches and have the new properties auto emailed right to you. The residential properties below are populated by setting specified parameters from the advanced search settings which are also defined below. Some properties may show up more than once because they fit multiple housing parameters. If no properties are present check back often or register with IDXWI.com to setup an auto email search so you can be the first to know about new log cabins in Adams County! - REGISTER
Log Homes in Adams County WI
Exterior Log
Waterfront Log Cabins for Sale
Exterior Log with Waterfront
Log Homes on Acreage
Exterior Log with 1+ Acres
Types of Log Homes
Architecture Log Home - Newest on the Market First
Types of Log Building & Styles
Rustic Log Hunting Cabins

Log Lakefront Cottages

Luxury Waterfront Log Homes

Custom Handcrafted Log Homes

Manufactured Log Houses

Full Log

Half Log

Log Sided

Hewn Logs

Sawn Logs

Milled Logs

Square Log

Round Log

D-Logs

Swedish Cope
Thinking about growing Corn, Oats, Soybeans, Wheat, Hay, Alfalfa, Buckwheat, Barley, Rye, Sweet Corn, Potatoes, Beans, Peas, Tomatoes, Peppers, Squash, Cranberries, Apples, Cherries, Tobacco, Berries, Grapes, Cucumbers, Wild Rice, Asparagus, Carrots, Onions, Ginseng, Garlic, Gourds, Mushrooms, Truffles and more... Buy a Wisconsin Farm TODAY!
Area Cites, Towns & Villages
Adams, WI 53910


Arkdale, WI. 54613

Bancroft, WI. 54921

Big Flats, Wisconsin

Big Springs, Wisconsin

Briggsville, WI. 53920

Brooks, Wisconsin

Brookside, Wisconsin

Coloma, WI. 54930

Cottonville, Wisconsin

Davis Corners, Wisconsin

Dell Prairie, WI. 53965

Dellwood, Wisconsin

Easton, Wisconsin

Easton, WI. 53910

Friendship, WI. 53934

Grand Marsh, WI. 53936

Hancock, WI. 54943

Leola, WI. 54943

Monroe Center, Wisconsin

Nekoosa, WI. 54457

New Chester, WI. 53952

New Haven, WI. 53952

New Rome, Wisconsin

Oxford, WI. 53952

Plainfield, WI. 54966

Plainville, Wisconsin

Preston, WI. 53934

Quincy, WI. 53934

Springville, WI. 53965

Strongs Prairie, WI. 54613

Westfield, WI. 53964

White Creek, Wisconsin

Wisconsin Dells, WI. 53965
Are you looking just for a little hobby farm to have some barnyard animals to raise or a full farming operation with livestock, equipment, buildings and farmland acreage to make a living lifestyle from? Adams County, Central Wisconsin has all types and styles of farming. From the small backyard shed raising a couple of eggs and an organic garden for fresh vegetables to the mid-sized family farm which supplies local stores and farmers markets to the large corporate scale farming operation producing high yields of grains, meats, diary, seeds and produce for larger markets. There is a wide array of farming options in Wisconsin like producing livestock, sheep, poultry, cattle, crops, grains, corn, soybeans, wheat, rye, vegetables, potatoes, peas, beans, tomatoes, cucumbers, onions, carrots, hay, straw, alfalfa and even fish with ponds and Aquaponics systems. Start planning and planting the seeds for your future in Central Wisconsin today!